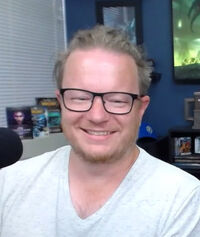 Jonathan LeCraft is a former Blizzard employee and Senior Game Designer for World of Warcraft.[2]
In a Kotaku article published on August 11, 2021, the gaming website cited internal sources that claimed LeCraft -- along with Luis Barriga and Jesse McCree -- were let go from Blizzard Entertainment. This was later confirmed the same day by a spokesperson for Activision Blizzard, stating that they "are no longer with the company".[3]
In game references
Unreleased and testing
Notes
In 2015 LeCraft celebrated 10 years with Blizzard.[4]
Gallery
References
External links