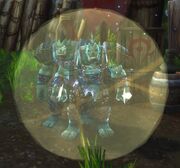 Jorek Ironside is an orc PvP rewards vendor located outside the Alterac Valley entrance in the Alterac Mountains. To find him go to Tarren Mill and find the graveyard (through town from the flight path) then go due north. He is the Frostwolf Supply Officer for the Horde.
He was present during the Legion Invasions.
During Warcraft's Anniversary he became time-displaced and his stock would scale up to ilvl 380 at level 120.
Vendor

This vendor offers a repair service.
During the anniversay event
Quotes
Gossip
I am in charge of recruitment for the Frostwolf Clan. As a soldier of Frostwolf, it is your responsibility to check in with me as your rank among the clan rises.
Honor and respect are earned on this frigid field.
Time-displaced gossip
Loktar, <race>, would you like to see my wares? I seem to be out of sorts today, but my wares will surely serve you for years to come.

 Let me take a look at what you have to offer.
Patch changes
See also
External links
| Hillsbrad Foothills | Legion Invasion | Time-Displaced |
| --- | --- | --- |
| | | |