Jormuttar is Soo Fat...

Start
King Jokkum
End
King Jokkum
Level
25-30
Category
Storm Peaks
Experience
22050 (or 13 23 at 80)
Reputation
+325 The Sons of Hodir
Previous
Krolmir, Hammer of Storms
Jormuttar is Soo Fat... requires friendly with The Sons of Hodir. It is a side quest in the overarching Sons of Hodir quest chain.
Objectives
King Jokkum in Dun Niffelem wants you to slay Jormuttar in Hibernal Cavern.
Description
I have an opportunity that will help you to gain approval with my people, provided you prevail.
The jormungar are a nuisance best dealt with quickly. If given any quarter, they breed like hares and spread like fire.
They have appeared southwest of here, in the Hibernal Cavern. If their spawnmother is not slain soon, they will gain a foothold in our region.
She cannot refuse food. Take this knife and get the flank of a bear corpse from their cave. Place it near her crater and kill her as she feeds.
Progress
Have you slain Jormuttar?
Completion
So it is done.
We have heard the screams of Jormuttar as they echoed from across the valley.
You have done our people a service this day, little <race>.
Notes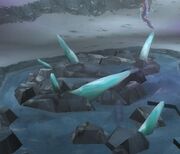 It will take a few tries using the skinning knife to get an appropriate bear. Also, sometimes this quest must be completed before King Jokkum will help you complete Krolmir, Hammer of Storms
The quest name is likely a reference to the popular "Yo Mama is so fat..." jokes.
Progression
External links