The subject of this article or section did not make it out of the alpha stages of World of Warcraft.

The in-game information in this article or section is kept purely for historical purposes.
For the island name that would eventually become the night elf world tree, see Teldrassil#Kalidar.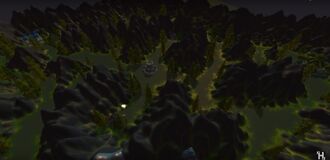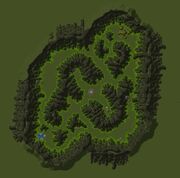 Kalidar was a planned battleground for the original World of Warcraft that never made it to live. It had a Warcraft III multiplayer and/or MOBA-style design, with three separate lanes in a forested area with a coloration similar to the Felwood seen in A Destiny of Flame and Sorrow.
Description
The battleground contained a human barracks and an orcish stronghold on each side. Separating them were three main paths, with other neutral buildings spread throughout the area: a scout tower in its center, a goblin laboratory close to the tower, three mine entrances (one in each path), two small moonwells, and several forest troll huts.
Notes
Like the iterations of Azshara Crater, the Kalidar map was also used to test two other battlegrounds:

One with a tileset similar to Elwynn Forest, where a guard tower opposed a scout tower, with two mine entrances and a currently-unused castle set-piece in the center.
One similar to a smaller Alterac Valley, where a dwarven keep opposed an orcish barracks (each flanked by two towers), with two ice caves (one with a troll village and a moonwell in front of it) and a version of the Field of Strife in the center.
Videos
World of Warcraft
The Burning Crusade
Wrath of the Lich King
Cataclysm
Mists of Pandaria
Warlords of Draenor
Legion
Battle for Azeroth
Canceled