Kamagua
Kamagua

Type
Port
Leader(s)
Elder Atuik
Race(s)
 Tuskarr
Language(s)
Tuskarr
Affiliation(s)
Kalu'ak
Organizations
Northsea Freebooters
Location
Western Howling Fjord, Northrend[25, 57]
Status
Active
Characteristics
Facilities

Stables

Anvil & Forge

Bank        Auctions
Travel
Flight Master(s)
Mass-transit
Portal(s)
Kamagua is a tuskarr port settlement on the Isle of Spears in the Howling Fjord, Northrend. [25.9, 57.9]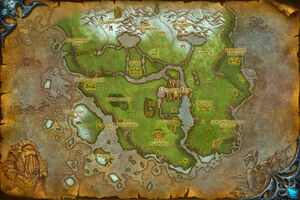 The Kalu'ak, a tuskarr faction, run the area. You can reach this location via a boat from Moa'ki Harbor, Dragonblight. The Prologue for Arthas: Rise of the Lich King begins here.
Travel Connections
Flight
Apothecary Camp in Howling Fjord

New Agamand in Howling Fjord

Westguard Keep in Howling Fjord
Turtle Boat
Green Island to Moa'ki Harbor in Dragonblight
Gondola Lift
Ancient Lift to the Howling Fjord mainland.
NPCs
Quest Givers

Additional NPCs

Goods and Services

Guards
Patch changes
External links