Kaplak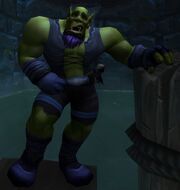 Kaplak is an orc rogue trainer located in Razor Hill in Durotar.

This section concerns content related to Mists of Pandaria.
During the Darkspear Rebellion when the Darkspears liberated the town, he was stealthed and around him was a killed Kor'kron Overseer.

This section concerns content related to Legion.
He joined the Uncrowned and is found in the Hall of Shadows.
This section concerns content related to Battle for Azeroth.
During the events of the battle at the Gates of Orgrimmar, Kaplak was giving instructions to 7th Legion Archers, 7th Legion Scouts, 7th Legion Riflemen, and High Overlord's Vanguards.
Quotes
Gossip
Durotar

Non-rogue gossip
I don't train your kind <class>.
Hall of Shadows
Just... resting my eyes... for a moment...
Dialogue
War Campaign
Kaplak says: Don't allow yourself to be seen. And don't get caught.
Kaplak says: You are to report back to me with everything you see, no matter how insignificant.
Quests

The subject of this section was removed from World of Warcraft in patch 4.0.3a but is present in Classic.
  [10] 

Therzok

  [16] 

To Orgrimmar!
Appearances
Trivia
In the Hall of Shadows, he's seen resting against a dock support, in a unique position as well with a unique facial expression that snores.
In his Legion appearance, he has the rogue trainer functionality dropped.
Patch changes
See also
External links