Wavebinder Kardris Dreamseeker was an orc shaman trainer located outside of Miwana's Longhouse in the Valley of Wisdom of Orgrimmar. Before the Shattering, she was located in Grommash Hold. At the time of the Darkspear Rebellion, she moved in the Valley of Strength, where she only taught dark shaman. Terga Earthbreaker replaced her.
Siege of Orgrimmar
Main article: Kor'kron Dark Shaman
After training thousands of shaman to whisper reverently to the elements to requisition their aid, Kardris answered to the call of Garrosh and became a Dark Shaman. She can be found in the Valley of Strength alongside Haromm, who also became a dark shaman. Together they oversaw the defense of the inner gate during the Siege of Orgrimmar and fought against the invading adventurers. They lost this battle and were killed, but in their dying breath they expressed remorse for their actions against the elements..[1]
Locations
Quests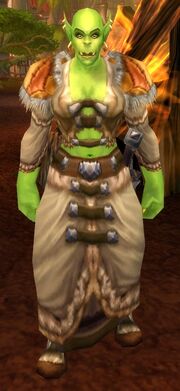 Quotes
Main article: Kor'kron Dark Shaman#Quotes
Gossip
May the spirits be with you.
Upon logging in on a boosted shaman
Main article: A New Beginning (BC Classic) (Horde)#Notes
Trivia
Patch changes
References
External links
| Shaman Trainer (Removed) | Valley of Strength | Siege of Orgrimmar |
| --- | --- | --- |
| | | |