Karizi Porkpatty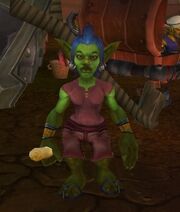 Karizi Porkpatty is a level 30 goblin located at Orgrimmar Rocketway Exchange in Azshara.
She used to reside in Goblin Slums of Orgrimmar, but was moved to Azshara following the construction of Orgrimmar Embassy along with Zarbo Porkpatty, who might be her husband.
Despite still being titled as cooking supplies vendor, she no longer sells anything.
Quotes
Gossip
Boss Mida says I'm bein' discharged. The only things that oughta be discharged are guns and explosives!
Patch changes
See also
External links