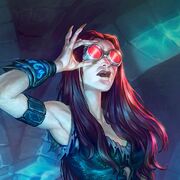 Kaye Toogie is an undead member of the Kirin Tor found at the bottom of a grate-covered well just outside of The Filthy Animal. She can only be reached by using the
 [Wormhole Generator: Northrend] and selecting Underground.
Sells
In Hearthstone

This section contains information exclusive to Hearthstone and is considered non-canon.
Kaye appears as one of the bosses that can be encountered in the Dalaran Heist single-player experience in the Rise of Shadows expansion for Hearthstone.
Notes
All of the schematics that she sells are of limited quantity (1).
The store will only open for players during the first hour of their stay, so it impossible to camp for rare recipes. The only way to reopen the store is to rewormhole there.
Patch changes
External links