Keelen's Trustworthy Tailoring is a tailoring shop found in the Bazaar of Silvermoon City.[56, 52]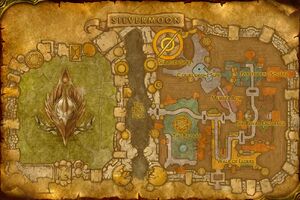 Keelen Sheets, the owner and tailoring trainer, Leper Gnome Laborers craft the clothing he sells.
NPCs
Notes
Mathias Shaw described the shop in his report as a bright, deceptively pleasant clothing shop that once operated here concealed the leper gnomes' labor,[1] implying that the shop no longer functions.
Patch changes
Sometime between patch 4.0.3a and 4.2.0 this area was given its own subzone.
References