Keelen's Trustworthy Tailoring is a tailoring shop found in the Bazaar of Silvermoon City.[56, 52]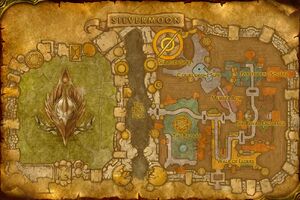 Keelen Sheets, the owner and tailoring trainer, Leper Gnome Laborers craft the clothing he sells.
NPCs

The subject of this section was removed from World of Warcraft in patch 4.0.3a but is present in Burning Crusade Classic.
Notes
Mathias Shaw described the shop in his report as a bright, deceptively pleasant clothing shop that once operated here concealed the leper gnomes' labor,[1] implying that the shop no longer functions.
Patch changes
Sometime between patch 4.0.3a and 4.2.0 this area was given its own subzone.
References