Kelm Hargunth

Title
<Warsong Supply Officer>
Gender
Male
Race
Orc (Humanoid)
Level
5-30 Elite
Class
Warrior
Affiliation(s)
Warsong Outriders
Location
Mor'shan Base Camp, Northern Barrens[40.2, 19.9]
Status
Alive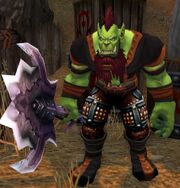 "The Warsong Outriders will not back down!"[1]
Kelm Hargunth is an orc PvP rewards vendor located at Mor'shan Base Camp in the Northern Barrens. He is the supply officer for the Warsong Outriders.
Vendor information

This vendor offers a repair service.
Note, reputation with the Warsong Outriders is no longer needed.
Quests
 [5-30] 

Outrider Basic Care Package
Quotes
Gossip
Zug zug, my friend! I am Kelm Hargunth, the main supplier for the Warsong Outriders. As you improve your standing with the Outriders, I will make available to you a fine selection of goods that you can use inside Warsong Gulch. Should you find yourself in need of item repair, I also provide those services

 What goods have I earned the right to purchase for use in Warsong Gulch?
Patch changes
See also
References
External links