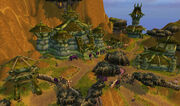 Kil'sorrow Fortress is a large fortress in southeastern Nagrand near the border with Terokkar Forest. It is inhabited by the Kil'sorrow clan,[1] who are agents of the Shadow Council. The area is well-defended, its wooden walls protecting a stronghold, a great hall, a kennel and several watch towers.
It is named after the great demonlord of the Burning Legion, Kil'jaeden.
The area where Kil'sorrow now stands once held the ogre fortress Mar'gok's Overwatch.
References
^  [15-30] 

Armaments for Deception
External links