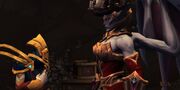 Kin'tessa is a nathrezim, the true form of Caretaker Kah-Than in Korthia. She reveals her true form during the quest
 [60] Under the Illusion, part of the Chains of Domination campaign. Kin'tessa, disguised as Caretaker Kah-Than, enlists the help of the Maw Walker to find Fatescribe Roh-Kalo. Ultimately betraying the Maw Walker and taking Fatescribe Roh-Kalo to the Jailer.
She was amongst those that joined Zovaal and invaded Zereth Mortis, where she and Mal'Ganis were ultimately confronted and defeated within the Sepulcher of the First Ones.
Patch changes
External links