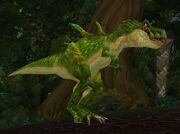 King Krush is a huge, extremely dangerous and rare devilsaur that stalks Sholazar Basin.
His unique appearance and elite status attract many hunters seeking the challenge of taming the great beast, while the prestige associated with slaying him attracts members of all classes and factions.
Abilities
  Feast — The devilsaur feasts on a nearby Humanoid or Beast corpse within 5 yards, healing it for 20% of its maximum health and restoring 20 focus over 6 sec.
  Mortal Wound — Inflicts 75% weapon damage to an enemy and leaves it wounded, reducing the effectiveness of any healing by 5% for 20 sec.
  Terrifying Roar — Causes nearby enemies to flee in fear for 5 sec.
Notable loot
Stats
2,196 - 3,197 Damage
8,141 Armor
Diet: Meat
Tameable (Exotic)
Achievement
King Krush is a criterion of the achievements:
In Hearthstone

This section contains information exclusive to Hearthstone and is considered non-canon.
Trivia
Gallery
Videos
Patch changes
External links