King Mukla
King Mukla is an enormous skymane gorilla found on Jaguero Isle in the Cape of Stranglethorn. Mukla has captured a tauren, Princess Poobah.
Abilities
  Barrel Bash — Hurls a massive barrel at the enemy which explodes, dealing damage and knocking the enemy back.
  Intimidation — Intimidates an enemy, causing it to flee in terror for 3 sec. Only 1 target can be feared at a time.
  Stomp — Stomps the ground, inflicting normal damage to nearby enemies and knocking them back.
Objective of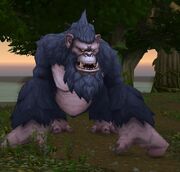 Trivia
He is most likely a reference to King Kong, a fictional giant gorilla who captured a female, and/or the famous video game character Donkey Kong, who was also partially based on King Kong.

One of Mukla's three attacks, Barrel Toss, is a direct reference to Donkey Kong's barrel throwing habits.

He appears as a legendary card in Hearthstone. His flavor text reads: "King Mukla wanders Jaguero Isle, searching for love."

He is also the fourth boss that new players face in the game's initial tutorial.
In the Grand Tournament expansion, there is also a common card called Mukla's Champion, whose flavor text reads: "An elegant gorilla, for a more civilized age."
A corrupted version of Mukla, known as Mukla, Tyrant of the Vale, appears as a legendary card in the Whispers of the Old Gods expansion. His flavor text reads: "Pro tip: DO NOT BOGART THE BANANAS."
Patch changes
See also
References
External links