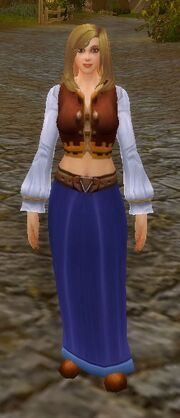 Kira Songshine is a wandering human drink and bread vendor located either on the roads north from Goldshire to Stormwind, east towards the Tower of Azora or south-west towards the Westbrook Garrison, in Elwynn Forest.
Jimmy Blackridge fancied her since they were children but was not able to tell her. After his time spent as a buccaneer he told Kira all about his pirate adventure some time after. Kira showed clear interest in James.[1]
Sells
Notes
If she is attacked by members of the opposite faction and there are guards nearby, she will shout "Guards! Help me.". This will bring guards to her who will then attack enemy players.
Fan artwork
See also
References
External links