The subject of this article was removed from World of Warcraft in patch 4.0.3a.

This includes items and quests that can no longer be obtained or are now deprecated.
The in-game information in this article is kept purely for historical purposes.
Kirith the Damned

Gender
Male
Race
Felhound (Demon)
Level
55
Reaction

Alliance

Horde

Affiliation(s)
Shadowsworn
Occupation
Lieutenant-General (formerly)
Location
Unknown
Status
Deceased
Kirith the Damned is a level 55 felhound found in the cave at the Serpent's Coil in the Blasted Lands. [69.0, 31.1]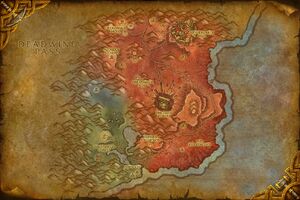 Defeating it will draw the Spirit of Kirith forth.
Lore
When the Fallen Hero of the Horde moved in the Blasted Lands to investigate the area under the command of the Horde, he was uncertain on what to do when he discovered the area was mostly controlled by a demon and his minions. His courier back to the horde was killed, and without any additional advice or commands he made several bad decisions that got him and his men captured or slaughtered. Him and his Lieutenant-General, Kirith, were tortured by Archmage Allistarj and their souls were used for experiments. Kirith died during the torture to only have his soul be twisted in to some sort of beast, the Fallen Hero of the Horde escaped his tormentors only to die.
Quests
Patch changes
Patch 4.0.3a (2010-11-23): Removed.

As of 8/1/2007 Kirith the Damned is immune to enslavement and banishment.
Patch 2.3.0 (2007-11-13): Kirith the Damned is no longer elite, and does not have Archmage Allistarj nearby.

External links