Kizi Copperclip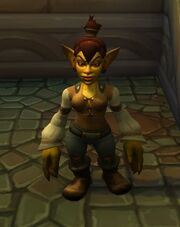 Kizi Copperclip is the goblin in charge of the Barbershop in Dalaran.
Quotes
Gossip
Welcome, friend, to the barbershop! Come for a cut? A coloring? Something else, perhaps?
We can groom facial hair, perform piercings, reshape tusks and horns, and even modify undead features!
Have a seat and we'll get right to work. You're only a few coins away from a new, more attractive you...
Dalaran above Deadwind Pass
Sorry, <name>. With all that's going on it looks like I won't be cutting hair for a while. Most of the other merchants have closed up their shops too.
<Looks around to the other merchants.>
Word on the street is there's something happening and it ain't just around here. The cities themselves are full of... well, I don't know and I better not to start talking too much. I wouldn't want to see anyone else on edge around here. We've got enough of that as is.
In Hearthstone

This section contains information exclusive to Hearthstone and is considered non-canon.
Kizi appears as one of the bosses that can be encountered in the Dalaran Heist single-player experience in the Rise of Shadows expansion for Hearthstone.
Patch changes
External links
| Northrend | Deadwind Pass | The Broken Isles |
| --- | --- | --- |
| | | |