Not to be confused with Murky (disambiguation).
Knight-Captain Murky
Use: Teaches you how to summon this companion.
The Knight-Captain Murky is the Alliance version of Murky as a soldier. He is awarded to players who attended or purchase the virtual ticket for BlizzCon 2016. The Horde version is
 [Legionnaire Murky].
Pet Journal
A tiny admirer of the Alliance, this courageous murloc made his own sword and shield to slay red-clad foes.
Battles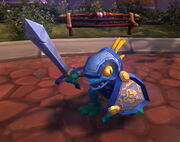 Humanoid: Recovers 4% of their maximum health if they dealt damage this round.
Patch changes
External links
Battle pet types
Humanoid battle pets

Dal

Knight-Captain Murky

Lightless Tormentor

Lost Featherling

Rook

Ruffle

Spriggan Trickster

Steward Featherling

Winterleaf Spriggan