This article is about the subzone. For the Dragonblight NPC, see Kor'kron Vanguard (NPC).
Kor'kron Vanguard

Type
Fortress
Leader(s)
Unknown
  Formerly
 Dranosh Saurfang †
Race(s)
 Orc
 Troll
 Tauren
 Taunka
Affiliation(s)
Warsong Offensive
Horde Expedition
Location
Angrathar the Wrathgate, Dragonblight[42, 16]
Status
Active
Characteristics
Facilities

Stables

Anvil & Forge

Bank        Auctions
Travel
Flight Master(s)
Mass-transit
Portal(s)
The Kor'kron Vanguard is a Horde fortress at the base of Angrathar the Wrathgate, the gate to Icecrown Glacier, in the northern regions of the Dragonblight. [42, 16]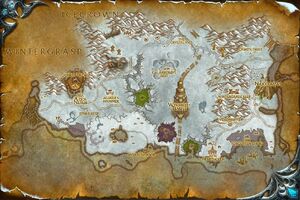 It is manned by the Kor'kron Guard, the elite warriors of the Horde. Dranosh Saurfang, a Mag'har orc and son of the High Overlord Varok Saurfang, is in command of the Vanguard.
The base is made up of a single tower, a burrow and is supplied with catapults and blade throwers.
NPCs
After phasing
Notes
After a player completes  [15-30] 

Return To Angrathar

, all NPCs will phase out of existence for that player and will no longer be available. Numo Spiritbreeze will remain for flight services.
Gallery
Patch changes
See also
External links