This article's name is unofficial.

Please note that while the content is valid, this article's name is not official.
This is because no official name is available for the subject of this article. We use a descriptive name instead.
This article should not be moved unless

discussed

first - Remember to follow the naming policy.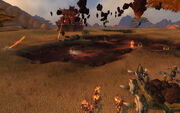 The Kor'kron elemental camp[61, 66]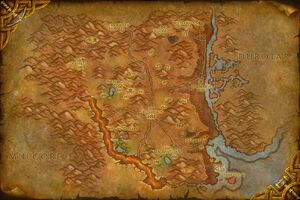 is found immediately to the northeast of Ratchet in the Northern Barrens. The Kor'kron have set up camp here to stir up unbound earth elementals and hell hounds for the cause. Right next to the camp is an abandoned gold mine that was previously occupied by Peons and Horde Guards.
During the Burning Legion's invasions, the abandoned camp fell under the Legion's control.
Inhabitants
Patch changes
See also