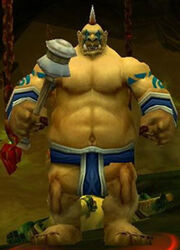 Kovork is a rare ogre found inside the cave at Boulder'gor in the Boulderfist Outpost in the Arathi Highlands. He is on a 5-8 hour respawn timer and drops the mace he is armed with.
Abilities
Arcane Orb
Big Foot Kick - Kicks an enemy with a massive foot, inflicting Physical damage and knocking down the target for 3 sec.
Bloody Maul - Strikes an enemy with a bloody weapon, inflicting Physical damage. Also causes additional Physical damage every 3 sec for 9 sec.
Frenzy - Increases the caster's attack speed by 60% for 2 min.
Loot

The subject of this section was removed from World of Warcraft in patch 4.0.3a but is present in Classic.
Objective of
Quotes
I'll crush you!

Me smash! You die!

Raaar!!! Me smash <race>!
Patch changes
Patch 4.0.3a (2010-11-23): Model updated. Level reduced from 36 to 26.

See also
External links