Ku'targ the Voidseer
Ku'targ the Voidseer is found at [32.5, 35.1]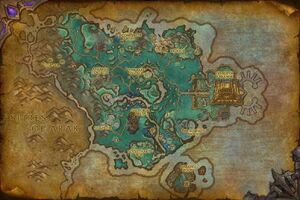 in a hut outside Anguish Fortress in west-central Shadowmoon Valley. He drops Ku'targ's Merciless Grips and 10-20x

[Garrison Resources].
Abilities
Gravity Void - Draws enemies together and calls down a Dark Star for 9 Shadow damage.
Void Blast - Explodes with void energy, dealing 4 Shadow damage to and silencing enemies within 0 to 10 yards.
Tracking quest
To check whether the voidseer has been looted, copy and paste this command into the chat window:
/run print(C_QuestLog.IsQuestFlaggedCompleted(33039))

If a "true" appears in the chat window, the voidseer has been looted; "false" indicates the opposite.
Quotes
The draenei will fall, and ALL will kneel before the void.
Patch changes
External links