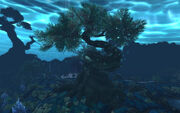 Kypari Zar is a dying kypari tree in southeastern Dread Wastes. Kypari Ik is to the northwest, the Lake of Stars is to the east, and Soggy's Gamble is to the south.
The first Klaxxi paragon, Korven the Prime, was given the honor of planting what would grow into Kypari Zar before volunteering himself to be put into stasis.
The sha has infested the Coldbite Matriarch, who has made her den beneath the kypari.
Trivia
During the beta, it was named Darkroot Hollow.
Patch changes
External links