The subject of this article was removed from World of Warcraft in patch 5.0.4 but is present in World of Warcraft: Classic.

The subject of this article does not exist on the retail realms anymore.
The categories should reflect this, and should not include retail realm categories.
For the goblin buildings, see Goblin laboratory.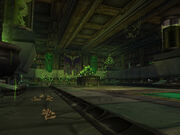 The Laboratory is located deep within Scholomance. It is accessed from the Viewing Room via the southern doorway. The laboratory itself is a dead end, but it is the location of one of the game's very few Alchemy Labs. Besides a few necromancers, it also contains the lich Ras Frostwhisper, and potentially the fierce Kormok for the Dungeon Set 2 questline.
Patch changes