The subject of this article was removed in patch 5.0.4 but remains in World of Warcraft: Classic.

This includes items and quests that can no longer be obtained or are now deprecated.
The categories should reflect this, and should not include retail realm categories.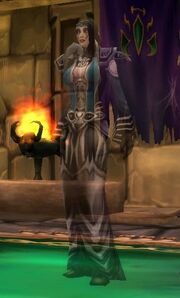 Lady Illucia Barov is a ghost mini-boss found in Scholomance. She was the wife of Lord Alexei Barov and formerly one of the six mini-bosses who had be killed in order to summon Darkmaster Gandling.
Abilities
She uses only shadow spells, so a shadow resistance buff or aura will do great here.
Loot
Lady Illucia Barov has a chance to drop one of the following items. It is not guaranteed, however, that she will drop anything at all.
In Hearthstone

This section contains information exclusive to Hearthstone and is considered non-canon.
Illucia Barov's living form appears as a legendary Priest card in the Scholomance Academy expansion for Hearthstone. Her abilities switches both players' decks and hands for a turn, and her flavor text reads: ""…and that's how I ended up with a Murloc Cultural Studies major.""
Patch changes
References
External links