The subject of this article was removed from World of Warcraft in patch 5.0.4.

This includes items and quests that can no longer be obtained or are now deprecated.
The in-game information in this article is kept purely for historical purposes.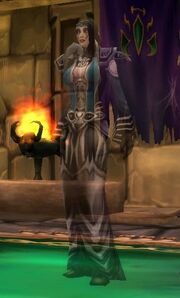 Lady Illucia Barov was a level 43 elite ghost mini-boss found in Scholomance. She was the wife of Lord Alexei Barov and formerly one of the six mini-bosses who had be killed in order to summon Darkmaster Gandling.
Abilities
She uses only shadow spells, so a shadow resistance buff or aura will do great here.
Curse of Agony - Curses nearby enemies with agony, inflicting Shadow damage every 3 sec. for 15 sec. Only one curse per warlock can be active on any one target.
Dominate Mind - Takes control of a humanoid enemy up to level 25 for 10 sec., but increases the time between its attacks by 100%.
Fear - Strikes fear in an enemy, causing it to flee in terror for 4 sec. Only 1 target can be feared at a time.
Shadow Shock - Instantly lashes an enemy with dark magic, inflicting Shadow damage.
Silence - Silences nearby enemies, preventing them from casting spells for 5 sec.
Loot
Lady Illucia Barov has a chance to drop one of the following items. It is not guaranteed, however, that she will drop anything at all.
In Hearthstone

This section contains information exclusive to Hearthstone and is considered non-canon.
Illucia Barov's living form appears as a legendary Priest card in the Scholomance Academy expansion for Hearthstone. Her abilities switches both players' decks and hands for a turn, and her flavor text reads: ""…and that's how I ended up with a Murloc Cultural Studies major.""
Patch changes
References
External links