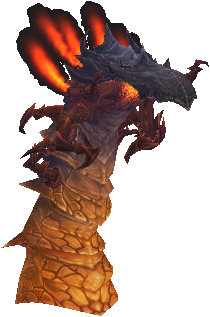 Lava worms[1][2] are gigantic worms from the Firelands.[3] Like the gyreworms of Deepholm, these worms too are considered pests by the natives of the Firelands.
While they are often seen within lava rivers or pools, they are capable of burrowing through the Firelands rock islands as well, bursting up at any location.
Lava worms can also be found in Frostfire Ridge on Draenor.
Notable
Types
References
^  [35 Daily] 

Breach in the Defenses

^  [16D] 

Animal Control
Creature group
Elemental creatures

Elements

Types
Variants

Air variant
Earth variant
Fire variant
Water variant

Other
Golem
Nature

Beast creatures

 

Arthropod

Arachnid
Crustacean
Insect

 

Mammal

Carnivoran
Ungulate

Bovids
Camelids
Cetaceans
Proboscids
Swine