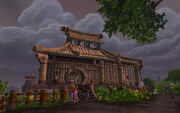 The Lazy Turnip is the inn of and tavern of Halfhill. Innkeeper Lei Lan is found wandering from the upstairs inn to the tavern below, where Den Den runs the bar.
Kora Kang and Teng Firebrew are usually found here talking with each other while drinking.
In lore, there is a stairway only accessible through the kitchen, going up to a portion of the second floor where each of the inn's staff have their own rooms with lockable doors. Den Den lives in the last room at the end of the hallway.[1]
Patch changes
References
External links