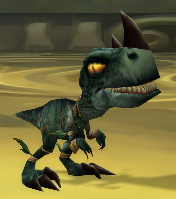 Leaping Hatchling is a companion that follows you around, meaning it is a non-combat pet and will not aid you in battle.
Source
As of patch 3.3.0, the Leaping Hatchling is found within Takk's Nest, an infrequently spawned object in The Barrens. Reports are that Takk the Leaper and Takk's Nest are not on the same timer.
Pet Journal
This offspring of Takk the Leaper is incredibly agile and can maneuver through difficult environments with ease.
Battles
Patch changes
External links
Battle pet types
Beast battle pets

Archetype of Cunning

Archetype of Discovery

Archetype of Predation

Bloodfeaster Spiderling

Blushing Spiderling

Corpulent Bonetusk

Goldenpaw Kit

Green Viperid

King Viperid

Leaping Hatchling

Momma Vombata

Red Viperid

Rosetipped Spiderling

Ruby Baubleworm

Sable

Tarachnid Ambusher

Tarachnid Stalker

Topaz Baubleworm

Tunneling Vombata

Turquoise Baubleworm

Viperid Menace

Vombata Pup