Not to be confused with Murky (disambiguation).
Legionnaire Murky
Use: Teaches you how to summon this companion.
The Legionnaire Murky is the Horde version of Murky as a soldier. He is awarded to players who attended or purchase the virtual ticket for BlizzCon 2016. The Alliance version is

 [Knight-Captain Murky]
Pet Journal
A proud supporter of the Horde, this tiny murloc left his clutch to seek out blue-clad foes to slay.
Battles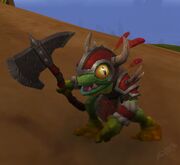 Humanoid: Recovers 4% of their maximum health if they dealt damage this round.
Patch changes
External links
Battle pet types
Humanoid battle pets

Dal

Legionnaire Murky

Lightless Tormentor

Lost Featherling

Rook

Ruffle

Spriggan Trickster

Steward Featherling

Winterleaf Spriggan