Levixus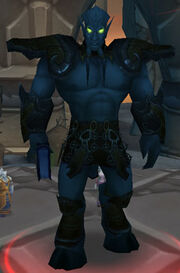 Levixus <The Soul Caller> is an eredar warlock located at Auchindoun who calls the dead by name and, through demonic ritual, binds the tortured souls to his will.[2] Killing him is the objective of the quest

 [67] Levixus the Soul Caller.
Levixus was born as one of the draenei; his father is Nitrin the Learned.
Abilities
Dominate Mind - Takes control of a humanoid enemy up to level 25 for 10 sec., but increases the time between its attacks by 100%. Dispellable.
Cripple - Increases the time between an enemies attacks by 100% and slows its movement by 50%, in addition to reducing its Strength by 50%. Lasts 15 sec. Dispellable.
Inferno - Summons a meteor from the Twisting Nether, causing 200 Fire damage and stunning all enemy targets in the area for 2 sec. An Infernal rises from the crater, under the command of the caster for 5 min. Used approximately every 20 seconds. Does not despawn after Levixus is dead.
Quotes
Every quote is preceded by:
Levixus reads from the book of the dead.
Levixus then exclaims in demonic:
[Demonic] Gulamir Azgala Gul Gulamir Zar Buras
Translations
[Demonic] Justin Thavirat! Roman Kenney! Our entire awesome art and animation team!
[Demonic] CHRIS METZEN!
[Demonic] Jeffrey Kaplan! Tom Chilton! Rob Pardo!
[Demonic] Kevin Jordan and Jonathan LeCraft!
[Demonic] Shane Dabiri, Lee, Alex T., Rob F., J. A. B., A. Mayberry!
[Demonic] Scott Mercer! Geoff, Wyatt, Joe, Travis, Kris, Steven! Brazie!
[Demonic] Pat Nagle! World design team! Cory Stockton, Paul C., Jim Chadwick, Staats, Ed Hanes, Morris, Gotcher, Jesse!, Sarah B., Victor C., Dave A.! All of our amazing exterior artists!

[Demonic] Luis, Brianna and Eric! Blizzard QA Team! Of course our fans!
Trivia
Patch changes
References
^  [67] 

Vision of the Dead
External links