Objectives
Description
Rewards
You will receive:
You will also receive one of the following:
Completion
Notes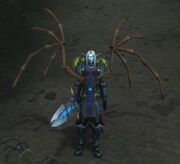 During this quest, Amal'thazad is present near the entrance to the area, protected by two Knights of the Ebon Blade. He has the following gossip text:
Upon completing this world quest, Amal'thazad will say the following and cast Jagged Bone Wings on you:
Amal'thazad says: Ah! Excellent specimens, Deathlord. Here, you may find this useful.
Trivia
The Jagged Bone Wings are similar in appearance to those of Sarah Kerrigan from StarCraft.
Patch changes
External links