For the Alliance draenei group, see Light's Vengeance (island expedition).
Light's Vengeance was Arthas Menethil's warhammer during his life as a paladin.
History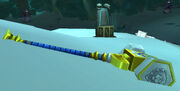 Light's Vengeance was an enormous, heavy-looking hammer, its silver head etched with runes and its sturdy haft wrapped in blue leather.[1] It was given to Arthas by Archbishop Faol when Arthas completed a ceremony held in the Cathedral of Light and joined the Knights of the Silver Hand.[2]
When he took up Frostmourne, Arthas discarded Light's Vengeance, leaving it behind in Frostmourne Cavern. Players can relive the scene in

 [15-30] Frostmourne Cavern.
Darion Mograine wanted adventurers to collect Light's Vengeance in order to create an artifact to rival Frostmourne, believing that only the hammer of Arthas himself would provide a worthy model.[3][4] Reforged with saronite, Light's Vengeance was transformed into

 [Shadow's Edge], which would later become

 [Shadowmourne].
Trivia
In Warcraft III, Light's Vengeance looked like any other paladin's hammer.
In World of Warcraft, Light's Vengeance shares its model with the  

[

Grand Marshal's Battle Hammer

]

.
Before the introduction of Light's Vengeance, it was a common speculation that Arthas' former mace was actually the  

[

Might of Menethil

]

.
A unique design for Light's Vengeance was created for the Crown Prince Arthas skin in Heroes of the Storm, but Blizzard felt players would confuse him with Uther and decided he should wield Frostmourne instead.[5]
Arthas' weapon has been depicted differently throughout multiple sources. In Warcraft III, Arthas wielded Light's Vengeance, which looked like a simple-looking, dark warhammer. In World of Warcraft and TCG artwork however, his hammer used the  

[

Grand Marshal's Battle Hammer

]

model instead. In Hearthstone, Arthas is wielding an even more ornate warhammer. In World of Warcraft: Chronicle Volume 3 and Jaina's Visions, his hammer looks like its original Warcraft III depiction. Warcraft III: Reforged returns to depicting it with a more ornate design.
Gallery
Patch changes
References
External links