Light's Wrath
Item Level

152

Staff
Speed 3.60
43 – 58 Damage
(14 damage per second)
+166 Intellect
+56 Stamina
+25 Haste
+25 Mastery
Equip: Grants the Light's Wrath ability, which unleashes a torrent of Holy Fire upon an enemy.
"It was with our greatest hopes and prayers that we attended the ceremony that day... and it is with our greatest sorrows that we departed it."
Light's Wrath is the artifact used by discipline priests in World of Warcraft: Legion.
Source
This item is a quest reward from


 [10-45] The Nexus Vault.
Background
Obsessed with cleansing undead from the world of Azeroth, the fanatical Scarlet Crusade tried to create a second Ashbringer in the form of a staff. However, a dreadlord who had infiltrated the order intervened, interrupting their efforts and triggering a violent magical explosion. The damaged staff's power proved nearly uncontrollable. After several wielders tried and failed to use the staff safely, the elite magi of the Kirin Tor hid it away lest it unleash further deadly calamities.[1]
Artifact traits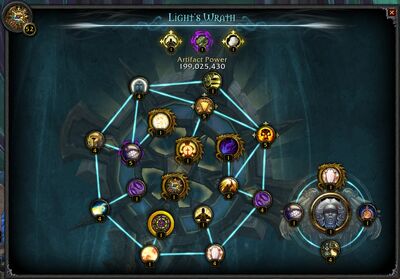 Base
Hidden trait:

[Overloaded with Light]
Empowered
Appearances
Classic
Achievement:

 [Fighting with Style: Classic]
This is the default appearance
Recover one of the Pillars of Creation
Recover  

[

Light's Heart

]


 [10-45] 

Light's Charge

Complete the first major Campaign effort with your order
  [10-45] 

Velen's Vision
Upgraded: Crest of the Redeemed
Achievement:

 [Fighting with Style: Upgraded]
Valorous: Chalice of Light
Achievement:

 [Fighting with Style: Valorous]
War-torn: Eternal Vigil
Achievement:


 [Fighting with Style: War-torn]/


 [Fighting with Style: War-torn]
Challenging: Ascended Watch
Achievement:

 [Fighting with Style: Challenging]
| | | | |
| --- | --- | --- | --- |
| | | | |
| Complete the The Fel Worm Menace questline | Defeat Heroic Kiljaeden after unlocking a Challenge artifact appearance | Win 10 rated battlegrounds after unlocking a Challenge artifact appearance | Defeat all Legion dungeon bosses after unlocking a challenge artifact appearance |
Hidden: Tomekeeper's Spire
Achievement:

 [Fighting with Style: Hidden]
Acquire  

[

Writings of the End

]

Complete 30 Legion dungeons after unlocking a Hidden artifact appearance
Complete 200 World Quests after unlocking a Hidden artifact appearance
Kill 1,000 enemy players after unlocking a Hidden artifact appearance
Videos
Trivia
Patch changes
References
External links