The subject of this article was removed from World of Warcraft in patch 4.0.3a.

This includes items and quests that can no longer be obtained or are now deprecated.
The in-game information in this article is kept purely for historical purposes.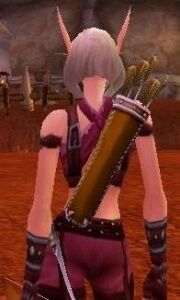 Hunters that start with bows, or crossbows, begin with this quiver.
Patch changes
Patch 4.0.3a (2010-11-23): Removed.

Patch 4.0.1 (2010-10-12): Converted to a 6-slot bag.

Patch 3.1.0 (2009-04-14): Ammunition: All types of gun and bow ammunition now stack to 1000. All quivers and ammo pouches no longer provide haste. 15% ranged haste is now built into the hunter's

[

Auto Shot

]

.

External links
High level
Mid level
Low level