For other uses, see Lightforged Warframe (disambiguation).
Lightforged Warframe
Mount
Use: Teaches you how to summon this mount.
Requires Level 110
Requires Artisan Riding
Requires Army of the Light - Exalted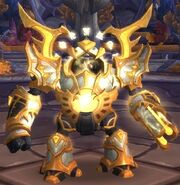 Source
This item is a reputation reward; you must be exalted with the Army of the Light to purchase this item from Vindicator Jaelaana on the Vindicaar for 625,000

(500,000

at required rep).
Description
The Army of the Light conducts quick, brutal hit-and-run attacks using these agile war machines.
Patch changes
External links
Mount family

Dragonkin
Feathermane
Invertebrate
Mammal
Reptile
Other

Gravewings

Razorwings

Shardhides

Wilderlings

Specific types

 

Mechanical mounts

Aircraft
Hovercraft
Robots

Rockets
Wheeled
vehicles

Trikes