Lil'Abom
Use: Teaches you how to summon this companion.
Lil'Abom is an abomination leftover combat pet, combined from five parts found in and around Perdition Hold and the Face of Oblivion in the Maw. Parts spawn on the ground next to the corpses of Prime Scouts.
Pet journal
The fields of battle teem with Lil'Abom parts, which are perfectly interchangable and easy to put back together
Battles
Undead: Returns to life immortal for one round when killed, but deals 25% less damage.
Parts and locations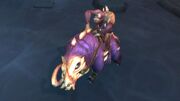 Patch changes
External links