Lil' Ben'fon
Use: Teaches you how to summon this companion.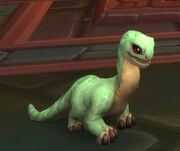 Lil' Ben'fon is a brutosaur companion.
Source
This item can be purchased for 300

from Happy Holaua in Dazar'alor after completing

 [10-50] The Head of Her Enemy.
Pet Journal
White Brutosaurs were on the brink of extinction until some enterprising adventurers took action. Lil' Benfon may have inherited her father's size, but definitely has her mother's temper!
Battles
Patch changes
See also
External links
Battle pet types
Beast battle pets

Archetype of Cunning

Archetype of Discovery

Archetype of Predation

Bloodfeaster Spiderling

Blushing Spiderling

Copperfur Kit

Corpulent Bonetusk

Goldenpaw Kit

Green Viperid

King Viperid

Lil' Ben'fon

Momma Vombata

Red Viperid

Rosetipped Spiderling

Ruby Baubleworm

Rustfur Kit

Sable

Tarachnid Ambusher

Tarachnid Stalker

Topaz Baubleworm

Tunneling Vombata

Turquoise Baubleworm

Verdant Kit

Viperid Menace

Vombata Pup