Lil' Ragnaros
Use: Teaches you how to summon this companion.
Lil' Ragnaros, the Tiniest Firelord.[1]
Source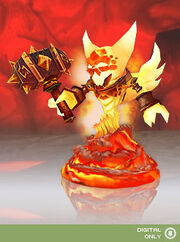 This item is available from the shop or the In-Game Store for $10 or €10. It was released on November 29, 2010 along with

 [Moonkin Hatchling].[1]
Pet Journal
It's never too soon to summon this tiny aspect of the dread Firelord.
Your foes will be purged by fire with Lil' Ragnaros on your team.
Taste the miniature flames of Sulfuron - Get your guildmates fired up with Lil' Ragnaros, the mini-elemental lord. Not only can he serve as a cooking fire, but he'll also sporadically ignite nearby critters that wander too close to his burning form. As a being of pure elemental fire, he will even submerge into the world's molten core when you start moving and then reemerge next to you wherever you stop.
Battles
Elemental: Ignores all negative weather effects. Enemy pets can still gain the beneficial effects from weather when facing an elemental.
Letter
This companion is a miniature version of Ragnaros, who mails it to players:
Lil' Ragnaros
Insect! You boldly seek the power of Ragnaros?!
Now you shall see it firsthand!
Well… at least a little of it. I may have summoned him too soon.
  - The Firelord
Notes and trivia
Available only to players on realms located in North America, Europe, and Korea.
Players who purchase it receive a code similar to that of the loot cards. When you enter the code in your account all characters are mailed a copy of this pet, as well as any future characters you create.
Unlike most companions, Lil' Ragnaros is stationary unless his owner moves far from him. This causes Lil' Ragnaros to turn to smoke, and then reform next to the owner.
Lil' Ragnaros can also be used as a cooking fire. Note that this ability fades after about a minute, requiring him to be summoned again to reactivate.
In Heroes of the Storm, Ragnaros has a skin called "Lil' Ragnaros" in reference to the World of Warcraft pet.
Lil' Rag appears as a minion in the Battlegrounds mode in Hearthstone, and one of Ragnaros' alternate portraits in the Mercenaries mode depicts him as Lil' Ragnaros.
Gallery
Patch changes
Patch 4.0.3a (2010-11-23): Added.

Activated on November 29, 2010.

References
External links
Purchase
Pet Store

 World of Warcraft® Pet: Lil' Ragnaros (US)

Pet Store

 World of Warcraft® Pet: Lil' Ragnaros (EU)
Item
Battle pet types
Elemental battle pets

Char

Dread

Fun Guss

Leafadore

Lil' Ragnaros

Mawtouched Geomental

Stabilized Geomental

Stemmins

Withering Creeper