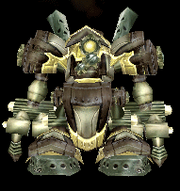 Lil' Smoky is a crowd pummeler companion.
Source
This item is crafted with Engineering (205); taught by

 [Schematic: Lil' Smoky].
It can also be looted from

 [Blingtron 4000 Gift Package].
Pet Journal
This tiny peacekeeper security bot is often outfitted with the latest arcane nullifiers and crowd pummelers. Not for the environmentally minded.
Battles
Mechanical: Comes back to life once per battle returning to 20% health.
Notes
In World of Warcraft: Classic, Lil' Smoky can only be crafted with gnomish engineering.
Lil' Smoky is about waist high to a gnome and produces a small cloud of black smoke around himself as well as producing a loud motor sound which can be heard by all around him.
Patch changes
External links
Battle pet types
Mechanical battle pets

Armored Vaultbot

Lil' Smoky

Squibbles