The subject of this article can no longer be obtained.

The in-game information in this article is kept purely for historical purposes.
Lil' XT
Use: Teaches you how to summon this companion.
Lil' XT is a miniature clockwork giant.
Source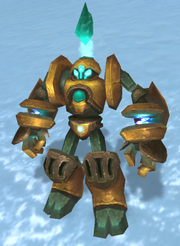 This item is available from the shop or the In-Game Store for $10 or €10. It was released on April 15, 2010 along with

 [Celestial Steed].
As of August 23, 2012, any players who subscribed to the World of Warcraft Mobile Armory got a free Lil' XT until the Armory itself became free. On August 14, 2017, with the release of StarCraft: Remastered, this pet was included in the korean-only collector's edition package.
With the See You Later Bundle on December 20, 2019, this pet was available at a discounted price with other items. On January 19, 2019, the pet is no longer available for purchase as it entered hibernation in the Blizzard Archive.[1]
Pet Journal
Modeled after the huge titan prototype in Ulduar, this volatile little construct plays hard with its toys.
Everybody's ready to play when Lil' X.T. is around.
Don't break it this time - Programmed with boundless energy and a child-like enthusiasm, Lil' XT, the mini-Deconstructor, awaits adoption by a capable and adventurous parent. Despite his diminutive size, Lil' XT can still fracture the ground beneath his feet with his tiny tympanic tantrums that discharge massive amounts of electricity into the air.
Battles
Mechanical: Comes back to life once per battle returning to 20% health.
Letter
This companion is a miniature version of the XT-002 Deconstructor. Players are mailed this pet by Jepetto Joybuzz:
Are You Ready to Play?
Congratulations, <name>!
You are now the proud owner of the latest cunningly-crafted Wonderworks original: the awesomely adorable automaton, Lil' XT!
This self-winding, steam-powered sidekick is certain to bring a smile to everyone's face. Have fun!
  - Jepetto
Quotes
See XT-002 Deconstructor for quotes and sound files.
Notes and trivia
Available only to players on realms located in North America, Europe, and Korea.
Players who purchase it receive a code similar to that of the loot cards. When you enter the code in your account all characters are mailed a copy of this pet, as well as any future characters you create.<
Will attack  

[

Clockwork Rocket Bot

]

(both types) and  

[

Crashin' Thrashin' Racer Controller

]

(both types)
Acts like a  

[

Wind-Up Train Wrecker

]

.
It will randomly speak some of its larger counterpart's lines. This initially played for all nearby players, but was quickly hotfixed to play only for the pet's owner.
Patch changes
Hotfix (2010-04-19): A hotfix was recently applied, which temporarily disabled some of the sounds Lil' XT makes.
The issue was that some of his sounds were flagged in such a way that they play for everyone around him and not just the player that owns the pet, an annoying problem to be sure. We can't alter volume or who the sounds play for through a hotfix so the temporary workaround is to disable them completely right now until the proper fix can be patched in later.

Patch 3.3.3 (2010-03-23): Added.

Activated on April 15, 2010.

References
External links
Purchase
Item
Battle pet types
Mechanical battle pets

Armored Vaultbot

Lil' XT

Squibbles