For the pre-Cataclysm quests, see Loch Modan quests.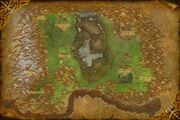 The Loch Modan storyline, intended for level 10-20 dwarves and gnomes, picks up where the Dun Morogh storyline left off in the High Seat of Ironforge.
Upon the conclusion of the storyline, or as soon as players reach level 19, the Wetlands storyline opens up.
Optional breadcrumbs:

 [5-30] Reinforcements for Loch Modan or

 [5-30] Hero's Call: Loch Modan!
South Gate Pass
 [5-30] 

The Lost Pilot

 [5-30] 

A Pilot's Revenge

 [5-30] 

South Gate Status Report
Valley of Kings and Thelsamar
 [5-30] 

In Defense of the King's Lands

 [5-30] 

A Decisive Strike

 [5-30] 

Onward to Thelsamar
Main chain