For his tactics in the Trial of the Crusader, see Lord Jaraxxus (tactics).
Lord Jaraxxus is an eredar demon lord of the Burning Legion.
Background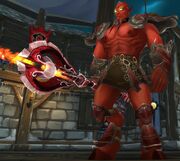 Before becoming man'ari, Jaraxxus was known as Grand Vizier Jarasum, one of the three greatest pupils of Archimonde. He acted as the Arc-Consul's second and oversaw much of the day to day operations in the Conservatory of the Arcane. When discipline was needed, it was often his voice that would ring out. He was not well liked, but he was respected nonetheless.[1]
Lord Jaraxxus was summoned by Grand Warlock Wilfred Fizzlebang when the gnome attempted to summon a doomguard for the next challenge during the Trial of the Crusader. Jaraxxus killed Fizzlebang for his efforts, and next planned to kill the adventurers and open a portal to let the Burning Legion invade Azeroth once more. Archmage Timear of the Kirin Tor had foreseen the event, and the Council of Six had therefore sent adventurers to participate in the trial and kill Jaraxxus, which they also succeeded at doing.[2]
Jaraxxus is one of the many demons summoned by Gul'dan in front of the Tomb of Sargeras to attack the forces of Azeroth in the climactic, disastrous battle at the Broken Shore.[3]
His location after the formation of the Legionfall is unknown.
Locations
Notable appearances
Location
Level range
Health range
Lord Jaraxxus (tactics)
??

| | |
| --- | --- |
| 10 | 1,316,100 |
| 10H | 1,667,060 |
| 25 | 6,361,150 |
| 25H | 8,335,300 |

 [10-45] 

The Battle for Broken Shore

??
1,934,652
Grand Vizier Jarasum
110
49,332
Quotes
Main article: Lord Jaraxxus (tactics)#Quotes
In Hearthstone
Notes and trivia
Gallery
Patch changes
References
External links
| Trial of the Crusader | Battle for Broken Shore | Toy transformation |
| --- | --- | --- |
| | | |