The subject of this article was removed in patch 5.0.4 but remains in World of Warcraft: Classic.

This does not exist on the retail realms anymore.
The categories should reflect this, and should not include retail realm categories.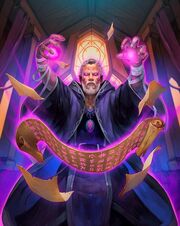 Lorekeeper Polkelt is a level 43 elite zombie mini-boss found in the Scholomance. Polkelt is one of the six mini-bosses that are required to call forth Darkmaster Gandling. Polkelt is notable among them in that he is the only one of the six that does not drop a

 [Corruptor's Scourgestone]. As we can tell from his name, he was once the keeper of knowledge, knowledge that has sadly been lost, however, as he is now a shambling, unintelligent monster.
Spells and Abilities
Corrosive Acid - Reduces the armor of nearby enemies by 16 for 20 sec.
Noxious Catalyst - Reduces an enemy's Nature resistance by 89 for 20 sec.
Volatile Infection - Infects an enemy for 30 sec., causing it to inflict 6 Nature damage to its nearby allies every 5 sec.
Loot
Lorekeeper Polkelt has a chance to drop one of the following items. It is not guaranteed, however, that he will drop anything at all.
In Hearthstone

This section contains information exclusive to Hearthstone and is considered non-canon.
Polkelt's appears as a neutral legendary card in the Scholomance Academy expansion for Hearthstone. His flavor text reads: "quicksort [] = [] quicksort (x:xs) = quicksort small ++ (x : quicksort large) where small = [y | y <- xs, y <= x] large = [y | y <- xs, y > x]", which is a valid quicksort algorithm in the Haskell programming language and a reference to his ability to sort your deck from highest cost to lowest cost.
Patch changes
External links