Lost Platysaur
Use: Teaches you how to summon the Lost Platysaur.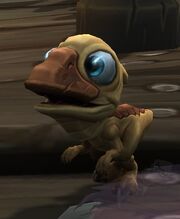 The Lost Platysaur is a platysaur companion.
Source
This item is sold by the following vendors for 100,000

:
Pet Journal
The platysaur species has been roaming around the lands since before time was even measured. An ancient species that has adapted to walking on the land, and also for some reason has adapted to repeating some short sounds three times in a row.
Battles
Trivia
Patch changes
External links
Battle pet types
Aquatic battle pets

Ambystan Darter

Ambystan Snapper

Archetype of Metamorphosis

Archetype of Renewal

Archetype of Serenity

Aurelid Floate

Brightscale Hatchling

Bufonid Croaker

E'rnee

Lost Platysaur

Prototickles

Silvershell Snapper

Terror Jelly

Venomous Bufonid