"Valentine" redirects here. For the Kul Tiran, see Marshal M. Valentine.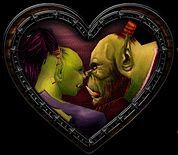 "Love is in the Air" is a seasonal event that takes place around Valentine's Day. The first "Love is in the Air" event occurred in 2006 for about 4 days. In 2010, the event was expanded to about two weeks and additional content added; see Love is in the Air (original) for the previous version.
From the official site:
Something is in the air in the major cities of Azeroth. Some call it love, and some just call it friendship and admiration. Whichever it is, many guards and townsfolks now spend their days giving and receiving tokens and gifts to other amorous citizens.
The more skeptical, however, are suspicious of the strange "love sickness" clouding the hearts of so many. Will this widespread occurrence be simply taken as a recent outbreak of amore? Or will our brave adventurers find a sinister plot behind the source of this plague of passion? Only time will tell...
New in 2020
Collectables
Mounts
Two mounts are available.
One mount is available for purchase for 270

:
One mount is an extremely rare drop from the

 [Heart-Shaped Box]:
In 2021, level 50-60 players can loot the

 [Heart-Shaped Box] from the Crown Chemical Co. dungeon. Lower-level players will instead receive a

 [Heart-Shaped Carton], which will not contain the X-45 Heartbreaker mount.
Pets
Three pets are available.
Two pets are available for purchase for 40

each:
One pet is a rare drop from the

 [Heart-Shaped Box]:
Toys
Four toys are available.
Two toys are available for purchase:
One toy is a rare drop from the

 [Heart-Shaped Box]:
One toy is an achievement reward:
Holiday items
The Crown Chemical Co. is in town! Items can be purchased from the Lovely Merchant in each major city for a

 [Love Token] or six. Tokens can be purchased with Lovely Charm Bracelets and are rewarded by several quests. The bracelets are created from ten Lovely Charms.
To collect Lovely Charms, players must have the

 [Lovely Charm Collector's Kit] in their inventory, which is available from Kwee Q. Peddlefeet. Then go kill mobs and/or players that would grant

[Honor] or XP. You need not loot these mobs to gain the Lovely Charm; it will appear in your inventory automatically.
Without grinding charms, players can acquire 35-40x

 [Love Token] each day. See the quests section for more information.
The Love is in the Air vendors will pay one Love Token for a Lovely Charm Bracelet. The four daily Lovely Charm Bracelet quests reward five Love Tokens per bracelet and reward a card that can be used for a buff.
There are additionally items that can only be obtained from the

 [Heart-Shaped Box] for current-expansion-level players or the

 [Heart-Shaped Carton], by killing Apothecary Hummel in Shadowfang Keep:
Love Token requirements
In order to purchase all of the items needed for the

 [Fool For Love] meta-achievement, at least 98x

 [Love Token] are required:
There are two other achievements that require Love Token-purchased items:
Quests
There are several daily quests and a quest chain during the holiday.
A Gift for ...
A daily quest from Kwee Q. Peddlefeet offering a gift (a

 [Lovely Charm Bracelet]) to the leader of the capital city. Receive 5x

 [Love Token] and a consumable card that provides a buff to a core stat for an hour. All four of these quests can be completed each day.
Sampling
Throw out 10 samples and receive 5x

 [Love Token]. Only one of these can be completed each day:
Crown Chemical Co. Contraband
Event boss
The Love is in the Air event boss consists of a three-NPC boss encounter in a special version of Shadowfang Keep, which can be queued up for using the Dungeon Finder. The event can be queued up for by players level 16 and higher and scales for all levels.
Apothecary Hummel, alongside Apothecary Baxter and Apothecary Frye comprise the encounter. Hummel will drop one holiday-themed necklace per kill, which can be repeated as often as desired. Once a day he will also drop the

 [Heart-Shaped Box] (for level 50+ players) or the

 [Heart-Shaped Carton]. The only difference between the two drops is that the Carton cannot contain the

 [X-45 Heartbreaker].
Bouquet of Roses
A

 [Bouquet of Ebon Roses] or a

 [Bouquet of Red Roses] is a drop from a specific boss in higher level instances. They shower a targeted character with either black or red rose petals.
Latest known drop locations (as of Patch 4.3.2):
Achievements
The meta-achievement for Love is in the Air is

 [Fool For Love]. It requires the completion of most of the achievements listed in the table below.

Note: This list is up to date as of Patch 9.2.5
Trivia
In Hearthstone, the Love Is in the Air card back was rewarded for achieving Rank 20 in Ranked Season 22, which took place during January 2016. The flavor text reads: "Many believe goblins made up this holiday to sell candy. It's not true! They also sell flowers and perfume!"
Gallery
Commercial
In 2007, Blizzard created a Burning Crusade commercial that featured the "Love is in the Air" event as well as the new jewelcrafting profession. From the official website, the ad was described as follows:[1]
What do you get the blood elf who has everything? This Valentine's Day, make it an epic jewel! Yes, the industrial empires of Azeroth aren't about to let anyone escape the relentless marketing campai- er, bloom of true love associated with this time of year! Take a look at this new commercial but be warned that you may be struck by a sudden impulse to spend all the gold you've saved for your epic mount.
Patch changes
See also
References
External links

World of Warcraft Community Site
 Love is in the Air

Wowhead
 Event guide on Wowhead.com

Icy Veins
 Love is in the Air Guide
Frequent
Weekly
Monthly
Micro
Annual
One-time
Removed