The subject of this article or section is part of Love is in the Air
, a
seasonal event
that lasts two weeks. Once the event has run its course, this will no longer be available until next year, but there are no guarantees.
Lovebird Hatchling
Use: Teaches you how to summon this companion.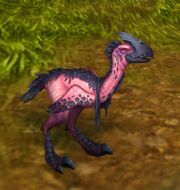 Lovebird Hatchling is sold by Lovely Merchants in capital cities during Love is in the Air for 40

.
Pet battles
Of course there are hatchlings, they're called Lovebirds aren't they?
Battles
Patch changes
External links
Battle pet types
Critter battle pets

Archetype of Multiplicity

Archetype of Survival

Archetype of Multiplicity

Ashen Chomper

Bloodlouse Larva

Corpselouse Larva

Decaying Mawrat

Decay Grub

Deepwood Leaper

Emerald Scarabid

Feasting Larva

Fierce Scarabid

Frenzied Mawrat

Hissing Deathroach

Leaping Leporid

Lovebird Hatchling

Metallic Scarabid

Plaguelouse Larva

Shelly

Timid Leporid

Tower Deathroach

Undying Deathroach