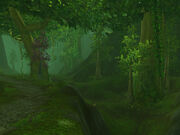 The Lower Wilds is the eastern section of Feralas that leads into Thousand Needles. The area in inhabited by treants, corrupted dryads, and Freewind Post Refugees walking the path to Camp Mojache.
The Emerald Summit can be found just east of town along the road. At the far eastern edge of the wilds is New Thalanaar.
Patch changes
Patch 1.4.0 (2005-04-19): There is no longer water missing from the pool by the Grimtotems in the Lower Wilds of Feralas.

External links