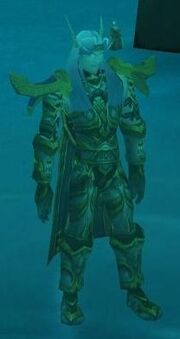 Lu'minellia was an ancient suit of armor crafted during Dath'Remar Sunstrider's reign[1] and worn by the ancient high elven kings.[2] It was last worn by King Anasterian Sunstrider during the Scourge invasion of Quel'Thalas, the king's last battle.[1]
While the king's blade
 [Felo'melorn] was reforged, much of Lu'minellia's fate is unknown, though it was still on Anasterian's person when his body was recovered. At least one piece was retrieved, the

 [Coronet of the Lu'minellia], which now resides within the Hall of the Guardian in Dalaran.
Notes
References