Lucky Yun

Lucky Yun
1.5 sec cast
Summons and dismisses this mount.

Usable by
Class
All
School
N/A
Cooldown
None/Global Cooldown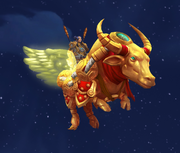 Source
This item is available for purchase from the shop or the In-Game Store for $25 or €25. It was released on February 2, 2021.[1]
It was also part of the 6-month subscription bundle, with the

 [Imp in a Ball] that is available for Burning Crusade Classic. The bundle replaced the mount on 1 July 2021 with

[Sapphire Skyblazer].
Mount Journal
The Pandaren believe that merely rubbing one's hands on the shiny hide of the ox will grant prosperity, the challenge is catching it.
The Pandaren elders claim that Lucky Yun will bestow good fortune upon those who touch its glittering hide.
Bovine Intervention – Trying to turn fortune in your favor? You're in luck! The pandaren elders claim that Lucky Yun will bestow prosperity upon anyone who touches its glittering hide. Take this ox by the horns and be prepared to meet your good fortune in Azeroth and beyond.
Videos
Patch changes
Patch 9.0.2 (2020-11-17): Added.

Activated on February 2, 2021.

Lunar New Year mounts
 

[

Shu-Zen, the Divine Sentinel

]

(Dog, 2018)
 

[

Hogrus, Swine of Good Fortune

]

(Pig, 2019)

[

Squeakers, the Trickster

]

(Rat, 2020)

[

Lucky Yun

]

(Ox, 2021)

[

Wen Lo, the River's Edge

]

(Tiger, 2022)
References
External links
Item
Purchase
Mount family

Dragonkin
Feathermane
Invertebrate
Mammal
Reptile
Other

Specific types